Where to pick up a copy of The Midwest Equestrian
Visit these locations to get your own copy.
Our magazine is offered in both print and digital format. We used to distribute our print magazine at the following tack stores, feed stores and regional businesses throughout the Midwest.   Our Spring 2020 issue is now available at the locations in bold.  It is also available for delivery to your home or place of business by ordering here
 https://themidwestequestrian.com/#Order!loading
Thank you for your support and enjoy your copy of The Midwest Equestrian!
Acala's Western Wear, 1733 W. chicago Ave.
Chicago, IL 60622
Bits n' Spurs, 410 E. Church, Suite D, Sandwich, IL  60548
Cherry Valley Feed, 1595 S. Bell School Road,
Cherry Valley, IL 61016
Dover Saddlery, 300 Peterson Road,
Libertyville, IL 60048
Equestrian Events, 45W015 Welter Road,
Maple Park, IL 60151
Grayslake Feed Sales, 21 N. Seymour Ave.
Grayslake, iL 60030
Hueber Feed, 110 S. Main,
Preston, IL 60113
Hueber Feed, 100 North 1st Street,
Holcomb, IL 60143
Hueber Feed, 211 W. Houseman Street,
Roanoke, IL 61561
Hueber Feed, 204 Comanche Street,
Shabbona, IL 60550
LK Tack Shop 26359 S. LaGrange Road,
Monee, IL 60449
Lake Barrington Feed & Supply, 22172 N. Hillview Drive,
Lake Barrington, IL 60010
Nature's Feed, 2440 Westward Drive, Unit C
Spring Grove, IL 60081
Ravensgoods, 4703 N. Damen Ave.
Chicago, IL 60625
Saddlers Row, 20066 N. Rand Road
Palatine, IL 60074
Silver Spur Ranch, 45W223 Lees Road,  Maple Park, IL 60151
Stanbridge Master Saddlers, 122 W. Main Street
St. Charles, IL 60174
The Ranch, 9436 W. Steger Road . Frankfurt, IL  60423
The Riding Store, 3050 Hobson Road
Woodridge, IL 60517
Thomas' Tails, 31 E. Crystal Lake Road . Crystal Lake,  IL  60014
Timmermanns Ranch and Saddle Shop, 29550 W. Roberts Road
Island Lake, IL 60042
Trellis Farm & Garden, 40W296 RR Wasco
Campton Hills, IL 60175
Trellis Farm & Garden, 2N492 Kirk Road
St. Charles, IL 60174
Tri-County Stockdale, 25520 W. Black Road
Joliet, IL 60404
Union Feed, 6516 Olson Road
Union, IL 60180
Wadsworth Feed & Saddlery, 15250 W. Wadsworth Road,
Wadsworth, IL 60083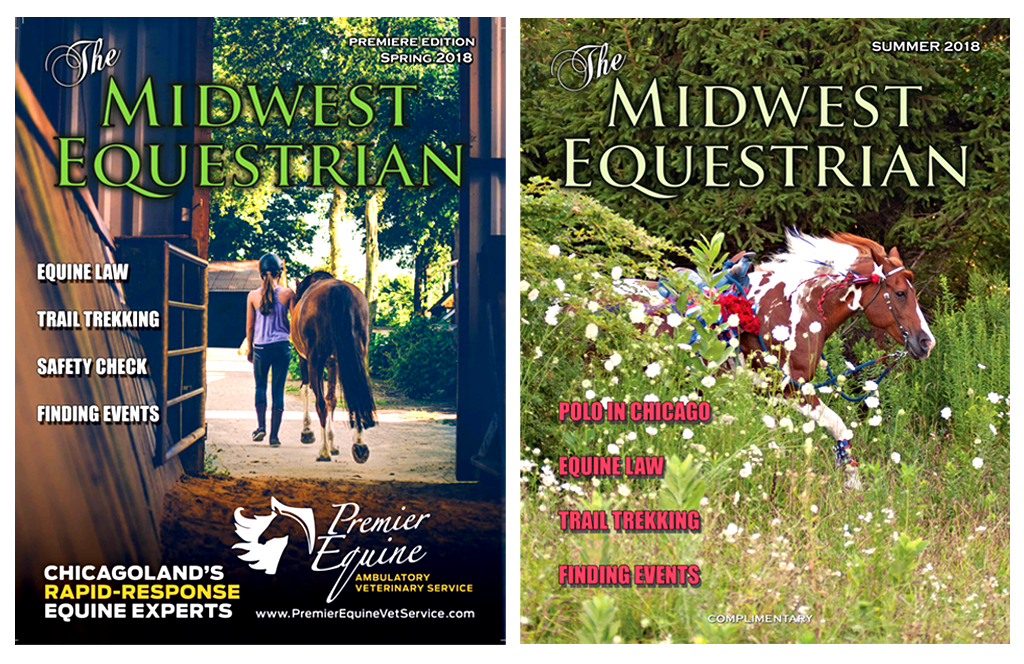 We publish a full-color magazine, The Midwest Equestrian, that is a resource guide for equine enthusiasts. It includes events and performances for all breeds and disciplines, listings of local stables, informative articles and beautiful photos.
Horse Emporium, 1924 MacArthur Road, Suite #2
Waukesha, WI 53188
Klema Feeds, 10540 Northwestern Ave.
Franksville, WI 53126
Landmark Feed, Seed & Supply, N58 W1681 Columbia Cedarburg, WI 53012
Round Two, 229 N. Main Street
Thiensvillle, WI 53092
Trevor Horn Feeds, 11100 258th Ave. Trevor, WI   53179
West 20 Ranch and Saddle Co. W 4812 Hwy 20
East Troy, WI 53120